At Sharon Lakes Animal Hospital in South Charlotte, our veterinarians and team offer bathing services for dogs, and anal gland expression.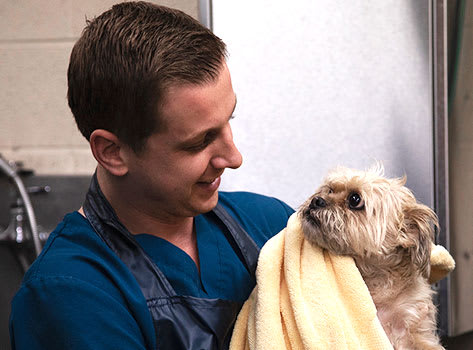 Save 10% on Spa Days!
Get your furry friend looking gloriously fluffy and fresh, and enjoy those cuddle sessions even more than usual!
During Spa Days at Sharon Lakes Animal Hospital, your pet gets a massage bath and shampoo in our Hydrosurge bath, and an anal gland expression for 10% off our usual fee.
If you think your pet could use a good bath, contact us today to get them looking their fluffy best!
Our HydroSurge® Bath
Our HydroSurge® Bath bathing equipment quickly and thoroughly penetrates your dog's coat for a deep clean.
HydroSurge creates a massaging effect that is very relaxing and soothing for our furry clients. In addition, it helps brings oxygen down to the skin, leaving pets cleaner and healthier.
HydroSurge allows us to wet, wash and rinse with one hand-held unit, and is designed to bathe your dog in 3 minutes or less.
This is made possible by the fact that shampoo cartridges are integrated in the handle, which automatically draws and distributes the shampoo during the bath. The result is easier, less stressful and more efficient bathing sessions for your pet.
Benefits of Bathing
There are several sanitary and dermatological benefits to regular bathing sessions for dogs. Bathing:
Removes dirt & odor for cleaner skin and coat
Softens and conditions coat
Reduces shedding
Helps treat and reduce symptoms of any allergies & skin conditions
Helps us monitor your pet's health