At Sharon Lakes Animal Hospital in South Charlotte, our vets offer cold laser therapy, a drug- and surgery-free treatment for certain painful and inflammatory conditions in cats and dogs.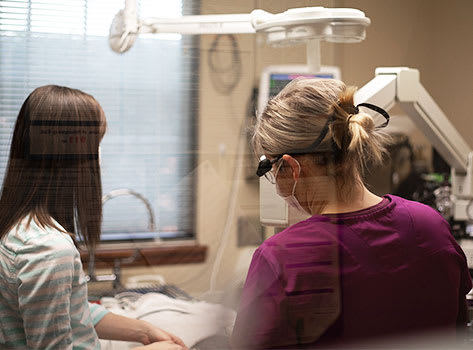 Non-Invasive Pain Management
Cold laser therapy is a pain-free and drug-free therapeutic treatment that we use to treat inflammation and pain in cats and dogs. Cold laser therapy is non-surgical and can be performed in conjunction with other treatments. 
If your cat or dog has sustained an injury, undergone surgery, or suffers from arthritis or another painful condition, they may be a candidate for cold laser therapy to help them heal. 
How Cold Laser Therapy Works
Cold lasers create a focused light that stimulates the tissue at and below the surface of your pet's skin. The biochemical effect that the light produces promotes cellular energy and regeneration, resulting in tissue repair, better circulation and pain relief.
Cold laser therapy can be used to treat a wide range of diseases, injuries and conditions in pets. These include musculoskeletal injuries, soft tissue injuries (sprains and strains) and arthritis, among others. It is often recommended in combination with other treatments
The Procedure
Before treatment begins, your pet will be given a full physical exam, which may include x-rays if needed. The laser wand is then applied to the area that needs to be treated. A typical session will usually last between 5 and 20 minutes. 
Cold laser therapy has a cumulative effect, so multiple treatment sessions will likely be prescribed. These should be done at the frequency recommended by your veterinarian for the best results. 
The Benefits
Laser therapy has the following benefits for pets:
Reduces pain and swelling
Speeds the healing process
Enhances circulation
Decreases nerve sensitivity
No negative side effects
No sedation is required
No need to shave or clip the treatment area