The dedicated and compassionate team at Sharon Lakes Animal Hospital provides overnight boarding services for dogs and cats in South Charlotte.
Your Pet's Home Away From Home
We know it can be stressful when you have to leave your pet, and we're here to help put your mind at ease. We are serious animal lovers, and you can trust us to provide your pet with the care and comfort of home while you're away. 
Comfortable & Caring Accommodations

We've got everything your pet needs for a fun, relaxing stay. 

Our cat and dog boarding facilities feature indoor, climate-controlled kennels for our canine guests and cat condos for our feline guests. 

While staying with us, your pet will enjoy lots of TLC and personal time with our staff. Boarding includes daily walks, playtime, bathing, and more. 

In addition, we're happy to accommodate cats and dogs that require specialized care, diets or medication. We'll follow any special instructions necessary to keep your pet happy and healthy during their stay.

TLC Boarding Option

Whether your pet needs a little extra attention, or you just want to spoil them while you're away, our TLC Boarding option might be right for you.

TLC Boarding includes extra one-on-one with our staff, and extra play sessions, 3 walks a day for dogs, and even a special lambswool blanket.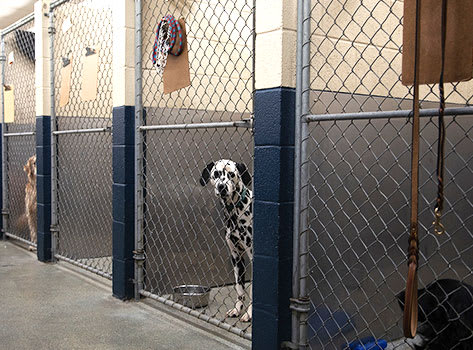 Planning to Board Regularly?
Join Our Frequent Boarding Club
With our Frequent Boarding Club, you can earn free boarding by paying for one of the following plans upfront.
Plan 1
Pay for 13 nights, get 1 night FREE.
Plan 2
Pay for 20 nights, get 2 nights FREE.
Plan 3
Pay for 27 nights, get 3 nights FREE.
Pet Boarding FAQs
Read the answers to our most frequently asked questions about pet boarding at Sharon Lakes Animal Hospital.