Our veterinarians provide quality veterinary dental care for cats and dogs in Charlotte.
Dental Care for Cats & Dogs
Regular dental care is a very important aspect of the oral health and overall health of your pet.
It may surprise you to learn that the most common disease in pets is periodontal disease. And just like us, they are also subject to broken teeth, orthodontic problems and even cavities.
At Sharon Lakes Animal Hospital, we offer complete dental care, including cleaning and polishing teeth, dental x-rays, dental surgeries, and client education on home dental care.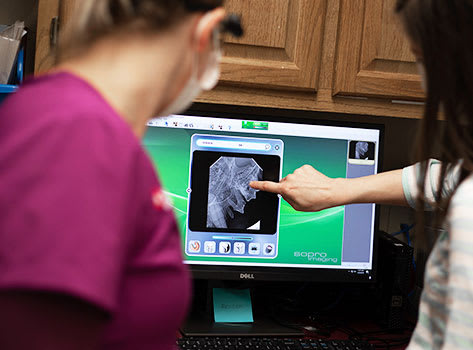 Annual Dental Checkups & Cleanings
Your pet should undergo a dental examination at least once a year. Some dogs and cats are more prone to dental problems and may need to visit more often.
At Sharon Lakes Animal Hospital, we can assess, treat, and help prevent dental problems in cats and dogs.
Anesthesia & Your Pet's Oral Health
When you go to the dentist, you know that the dental procedures being performed are designed to help you and keep your mouth healthy.
Your pet does not understand this – and he or she will react to dental procedures by struggling, trying to escape, or even biting.
Anesthesia makes it possible for us to perform dental procedures effectively with less stress and pain for your pet. If digital radiographs (x-rays) are needed, your pet must be very still in order to get good images. Sedation or anesthesia helps with this as well.