Welcome to Sharon Lakes Animal Hospital: Your Trusted Veterinarian in Charlotte
At Sharon Lakes Animal Hospital, we're dedicated to caring for the health and wellbeing of cats and dogs in Charlotte. 
Our experienced veterinarians and compassionate support team are committed to providing excellence in veterinary care in Charlotte, because we know your pets deserve nothing less. 
We hold ourselves to the highest standard, and are proud to be accredited by the American Animal Hospital Association.
Our Featured Veterinary Services
We offer these key veterinary services to provide your pet with the best possible care.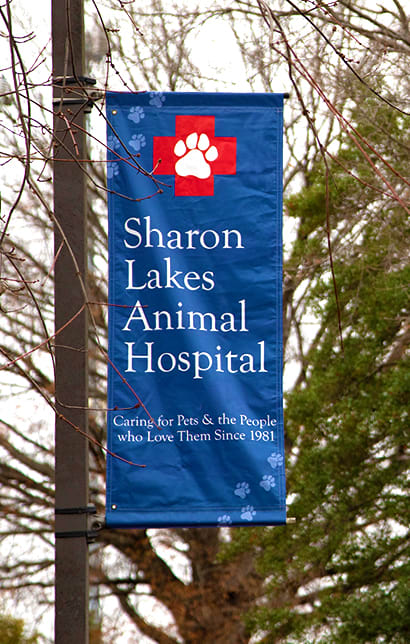 Visit Our Charlotte Animal Hospital
The veterinarians at Sharon Lakes Animal Hospital provide comprehensive veterinary care for cats and dogs in South Charlotte.
  Animal Hospital Hours of Operation
Monday: 07:30 am - 07:30 pm
Tuesday: 07:30 am - 06:00 pm
Wednesday: 07:30 am - 06:00 pm
Thursday: 07:30 am - 06:00 pm
Friday: 07:30 am - 06:00 pm
Saturday: 08:00 am - 12:00 pm
Sunday: Closed
  Location
7619 Sharon Lakes Rd,
Charlotte,
NC
28210
US
  Phone

Happy Tails From Our Charlotte Clients
This is the best animal hospital I have ever been to. Everyone is incredibly friendly and they truly care about your pet.
From Our Blog
Our Charlotte veterinarians share helpful tips and information to help you keep your pets healthy and happy.
Is your dog showing signs of anxiety or depression? Try these tips from our South Charlotte vets.
Has your kitty's meow been reduced to a squeak or a scratchy rasp? Laryngitis in cats can be the result of a number of different underlying causes. In today's post our Charlotte vets share more about cat laryngitis symptoms, causes and treatments.
Routine wellness exams help to keep your pet healthy by giving your veterinarian regular opportunities to examine your pet for earliest signs of disease and to monitor your dog or cat's overall health. Here, our South Charlotte vets share more about why routine exams are important and what to expect at your pet's annual vet checkup.